Holidays in Greece are associated with idyllic landscapes on beautiful islands. But when in Greece, one thing will also be unforgettable: the nightlife! Greeks know how to have fun and enjoy partying at night sometimes until early in the morning. Be prepared to experience the best parties and music events on Skiathos! Yet the island is not only parties at clubs with buzzing dance music. Do you prefer quieter nights near the seaside with cocktails and soft music? Almost everywhere on Skiathos, there are bars and clubs for every taste.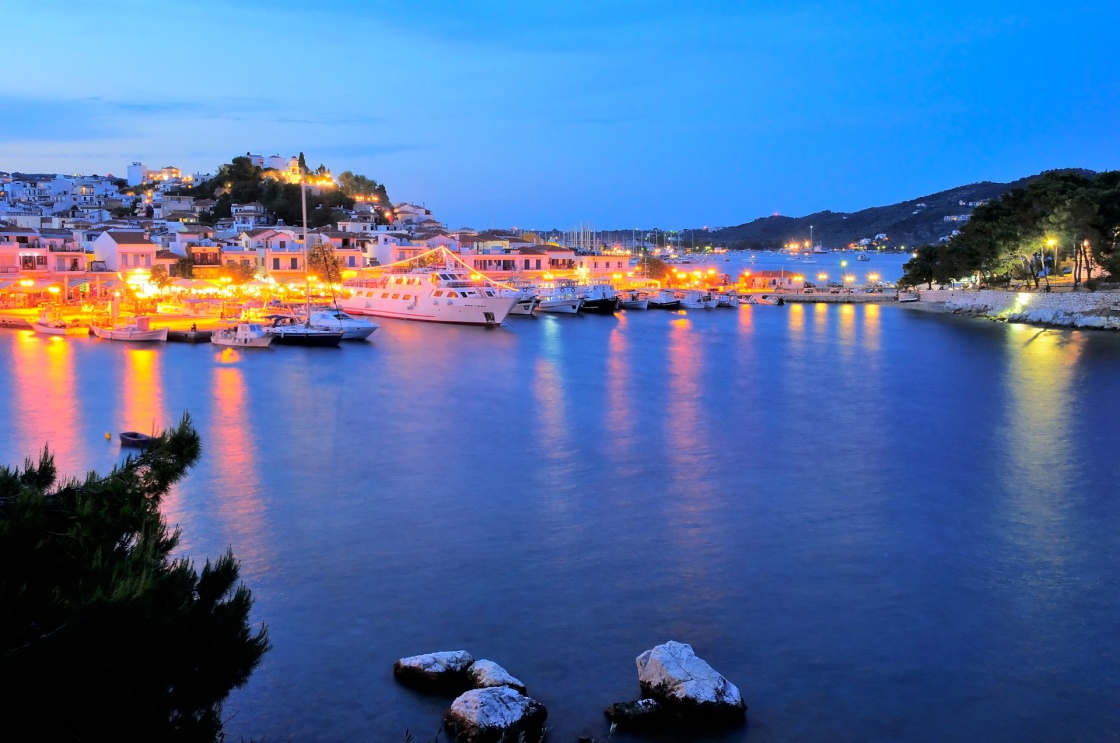 'Skiathos town at night, Skiathos island, Sporades archipelago, Greece' - Aetherial Images / Shutterstock
If you are planning to party all night long, the liveliest areas where you can meet mostly young people dancing inside and outside clubs are either the so-called Bar Street on the eastern side of the harbour or the area near Papadiamantis Street and the Trion Ierarchon Square, in the Old Town. As most clubs in Greece don't open before midnight, we suggest that you have a laid-back attitude and go out quite late. You could start your night with some drinks in bars at the waterfront with the marvelous view of the Bourtzi fortress and the small, colourful fishing boats. Later at night we suggest you go pub crawling from one side of the island to the other in order to live Skiathos nightlife to its fullest.
The bars and clubs on the island play all sorts of music, from mainstream pop to alternative rock and jazz music. For more folk Greek nights, you could try "bouzoukia" where you can listen to folk and popular Greek music.
A very popular and well-known place on the island, preferred by famous celebrities as well, is the cocktail bars at the old port, with the cushions on the stairs, used for sitting and enjoying your cocktail in a relaxed, summer mood! It's worth visiting these bars as they have become one of the typical destinations for a cocktail on Skiathos and they are quite associated with your visit on the island. The atmosphere is different from the rest of the bars and clubs to be found on Skiathos, therefore it turns your cocktail into a memorable experience!
For those of you who are more into art, you should definitely go to the outdoor cinemas of the island. You can enjoy your favourite films under the starry Greek summer sky. If you are on romantic holidays, this is a nice way to spend a lovely evening with your partner. Alternatively, you might want to visit the art gallery and exhibition centre in the fortress or the open air theatre next to it where several concerts, plays and other cultural events take place in the summer.
For families and those of you who prefer quieter holidays, head to the south coast where nightlife is quite limited including mostly meals and a few drinks. To sum up, no matter what your music taste or nightlife preference are, Skiathos has a large number of options for each and every one of its visitors!